This page contains pictures from the April 21, 2001 operating session on the original CSXT Shenandoah Division. This session was the last one before the layout was dismantled in preparation for our move.
This session was the third where we had a digital camera, so some of the pictures reflect the fact that features of the camera were still being discovered. The pictures are representative of an operating session, and you'll see both trains and crew members.
This session saw an above-average number of derailments and electrical incidents--it was almost as if the railroad sensed its imminent demise!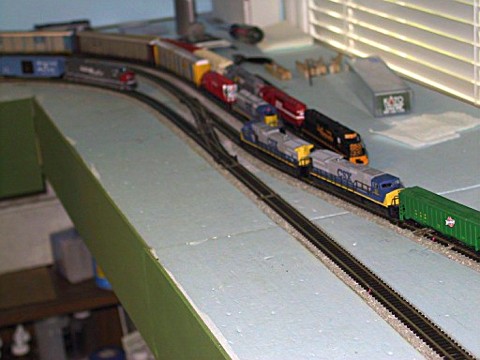 Busy day at Salem: three trains meet at SA Cabin while the Salem Y102 yard job classifies cars on the yard lead. Southbound grain train G227 is on the mainline next to southbound Q241, the hot Detroit-Winston Salem autoracks. Northbound empty grain train G948 is being routed up the arrival/departure (A/D) lead to pull off a rare three-way meet.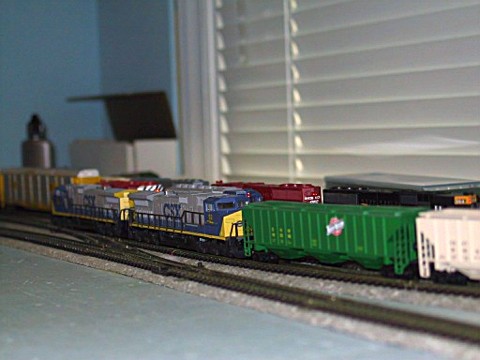 Here's a ground level view of the three-way meet above.
Overall view of Salem yard. G948 is using A/D Track 1, while the Y102 switcher classifies cars.
Salem Yardmaster Marcus ponders his next move, while Cherie waits for clearance to proceed south.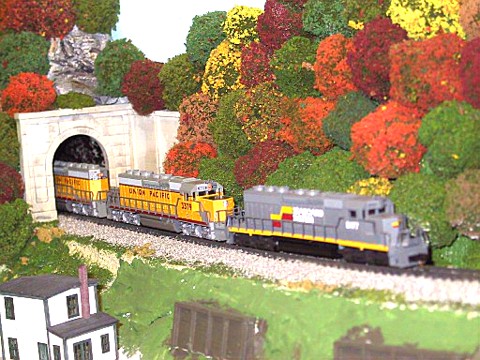 SBD 8177 leads some run-through UP SD40-2 "snoots" out of Bald Knob Tunnel northbound on Q158.
This page was last updated on 01/01/11.